INTERIOR ARCHITECT IN AIX-EN-PROVENCE
When I set up a full-service interior design agency in Aix-en-Provence, I was swept away by the richness and passion this field has to offer. The combination of Decorative Arts and Architecture has always been a source of inspiration for us. Our passion lies in conceiving spaces, designing furniture, sourcing quality materials, and partnering with exceptional international furniture suppliers. Most importantly, we value the long-term relationships we build with our customers.
By entrusting us with the overall design of your project, you can concentrate on the aspects you're most passionate about. Our architectural firm is your trusted partner, capable of handling every aspect of your project. From finding qualified craftsmen and first-rate materials, to planning, managing contingencies and guaranteeing quality workmanship, MAISON TCHENIO and its team of recognized professionals offer you a complete solution, from start to finish.
Tell us about your architecture or decoration project, ...
Vous avez…
–  un decoration, , interior design ou de decoration ?
– quelques idées mais souhaiteriez l'accompagnement d'une décoratrice d'intérieur ou d'un architecte d'intérieur ?
– un bien sur Aix en Provence or dans les alentours ?
Maison Tchenio offers to quickly explain your renovation or decoration project without obligation. We will do our best to answer you as soon as possible. Kind regards,
DE LA DÉCORATION, À LA RÉNOVATION & LA VENTE DE MOBILIER
En tant qu'architecte, proposons une gamme complète de prestations et nous travaillons main dans la main avec nos clients pour les conseiller dans la concrétisation d'une partie ou de l'ensemble de leur projet. Le cœur de notre travail est la proposition de projets créatifs et innovants, de trouver des artisans expérimentés et fiables, de conseiller sur la gestion et le budget, et de relever les défis inhérents à tout projet de la rénovation à la décoration.
Within our office in Aix en Provence, we offer :
Decoration advisory ♦ Interior design ♦ Renovation ♦ Contract and retail sales showroom by appointment ♦
Shopping Services ♦ Budget Advisory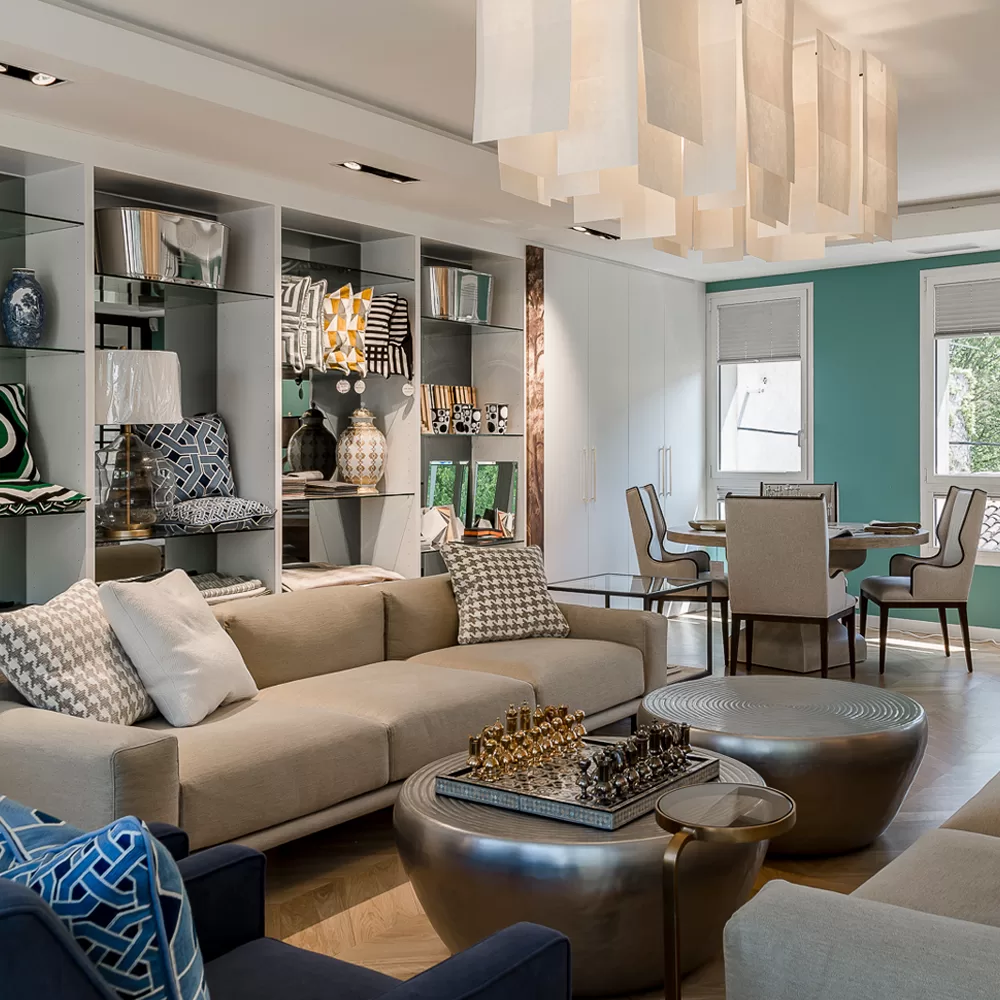 DISCOVER OUR SHOWROOM IN THE HEART OF AIX EN PROVENCE
In 2022, we decided to formalize our offering by creating a beautiful showroom in the center of Aix-en-Provence dedicated to welcoming our clientele. It is a very elegant and comfortable space where we can display our know-how, stock samples of material options, create interactive events with our partners and gather the MAISON TCHENIO team to brainstorm with and for our clients. It is with great pleasure that we encourage you to make an appointment to discover our new space dedicated to our clients.
I entrusted Ruth TCHENIO with an "empty shell", a beautiful but unfinished home without amenities or soul. With all of her energy, her determination and her confident taste, she transformed 300 m2 into a veritable jewel, warm, practical and distinguished. She guided me, advised me and accompanied me in each of my choices. From the restructuring of each room, the tiling, the custom-made bookcases, the installation of a fireplace... to the choice of cushions, lighting and even door handles. 
She advised me on the choice of each tradesperson and followed my needs and expectations with regularity and attention.   
The transformation was radical, efficient, perfectly executed and to my taste. Ruth TCHENIO or how to go from an empty shell to a comfortable, rich and cozy cocoon!"
I've noticed that most people often feel that a professional decorator is superfluous. They believe that they have enough confidence and taste to manage things on their own.
I could never think that again having worked with Ruth and MAISON TCHENIO.
 Firstly, she was very attentive to our needs and constraints. Then she gently pushed us out of our comfort zone with proposals for choices and custom-made options that we could not have imagined on our own.
She also helped us to choose very professional craftsmen who we loved... In short, we were delighted with the service of a true professional and we would adore conceiving a whole new home just to do a new project with her!  
In our seventies, and after 50 years in the same home, we decided to move to the seaside into a 110 M2 apartment that required a full renovation; The task seemed insurmountable! MAISON TCHENIO took care of the entire project for us.
 Ruth first listened to our needs and our vision, also considering our financial limitations. With her exceptionally professional team, she accompanied us in our choices with patience, energy, and taste, within the announced deadlines and without compromising our pocketbook. She created an elegant and functional atmosphere where some indispensable family furniture found its place among new purchases.  
Each day we are amazed by the beauty of our home. Once again, a huge THANK YOU!
Following my move to the Hôpital Privé de Provence, I was looking for an agency that could advise and assist me in the conceptualisation and decoration of my medical offices.
Ruth and her team managed all of my needs while respecting the deadlines and the proposed budget. Ruth is very available and carefully listened to my ideas. She proposed a stunning custom-made solid oak screen to separate the consultation and examination rooms and provided a full decoration plan for the office and waiting room. The result is a particularly cozy and elegant but professional atmosphere.

My patients and I are delighted with my offices, and I would like thank MAISON TCHENIO for their highly professional service.
It is with great pleasure that I highly recommend Maison TCHENIO!
The team is inspiring and organized, combining creativity, attention to detail and great professionalism.
Asked to redecorate after a new renovation, Ruth TCHENIO was able to understand and surpass my expectations and was a true source of inspiration throughout. 
Her trademark remains her strong sense of detail, loads of creativity particularly for made to measure furniture and the strong trusting relationships that she develops with clients. I am extremely satisfied with the quality of work done. Thank you.
I cannot say enough about Ruth and Maison Tchenio! She truly made our projects seamless and more beautiful than I could have imagined. I feel so fortunate to have not only found someone with such an incredible sense of style but who also listens and takes her time to understand what fits you. The fact that she speaks both English and French helped us immensely and was such a relief as there were no communication issues. She was professional, reliable and inspirational to work with! Thank you Ruth!
I recently contacted Maison TCHENIO on the recommendation of a friend. I wanted to renew the interior design and decoration in certain parts of my home, which has also become my workplace. It was a tremendous challenge to harmoniously separate my private life from my professional life in my home space and I felt that I needed some support in order to make the right decisions.  
Ruth TCHENIO was able to understand my needs and helped me to determine my very specific needs and tastes . I am thrilled with the results! 
Throughout the project, her team was extremely professional and adapted to the fact that I was working while they were demolishing, installing and repainting... Thank you for your flexibility!
I am now able to live and work under one roof comfortably. Mission accomplished !